Here in the Collins household we're slowly going green. I now make my own
laundry detergent
and cleaner. I'm trying to use more Earth friendly things like baking soda and vinegar instead of the harsh chemicals. We are going to start replacing blown light bulbs with CFL's and, of course, we recycle.
Another step in going green is cloth diapering. Now, I thought long and hard about using cloth diapers. I was really not interested in using pins and rubber pants. No thank you! But, I have several friends that use cloth diapers and I couldn't believe the innovations in cloth! They look and act almost like disposables. Gone are days of folding, pinning, leaking and rubber pants that don't fit. These new diapers are simply awesome! I have a really hard time trying to explain them to people though, so check out this
website
for lots of great information and some pictures.
After hours and hours of research and many IM conversations with friends, I decided to take the plunge. I bought two diapers, just to try them out. As soon as they came in the mail we got them out and messed with them a little bit. I couldn't believe how soft they were! Wow! Adelae seemed really interested in them. In fact, she kept saying "I need a new diaper. New diaper please!" We tried them out on her yesterday and she loved them! When we put it on her her she said "Oooohh Mommy...that soft!" And she actually informed us when she was wet! Needless to say, I'll definitely be investing in many more cloth diapers. We plan to use them on Adelae until she is potty trained and on the new baby. My only regret is that we didn't do this sooner!
Proudly showing off her new diaper.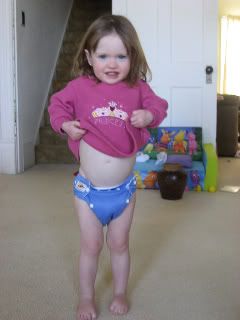 Model in the making!