This weeks
Small Talk Six
is "Things people do that make you personally uncomfortable."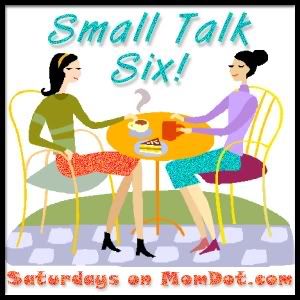 1. I hate it when people smoke in an enclosed space around me or child. Um...just because you turn on a fan, doesn't make it ok! Neither does going into another room and shutting the door. In case you haven't heard..second hand smoke is BAD, especially for little kids and pregnant women. I used to smoke, so I can understand why you want a cigarette (even though it's nasty) but please take it outside!
2. It makes me incredibly uncomfortable when people use racial slurs. I don't use them, I don't like them and I don't want my very impressionable two year old learning them.
3. It also makes me uncomfortable when people spout their political views with little or no research. FYI World: Just because your neighbor, best friend, TMZ, or random person on the street says it true, it doesn't mean it is! If you're going argue politics with me, please do your research first.
4. I am extremely uncomfortable when strangers talk to my daughter. With all the abductions that are on the news all the time, why do people STILL think it's ok to talk to my daughter and totally ignore me? It's weird. And creepy. If you do it, please stop.
5. I get really uncomfortable when people tell me how to parent. Ok, uncomfortable may be putting it mildly. I makes me really angry. She's MY daughter, not yours. If I think she need a hat, she wears a hat; if I say no more candy, I mean NO MORE CANDY. Or when people say "You're being over protective." Yes yes I am being over protective. Wanna know why? Because I'm her MOTHER and THAT'S MY RIGHT!
6. Smelly people make me uncomfortable. Please please please pay attention to your personal hygiene. I don't care if your clothes are old, just make sure they're clean. I don't care if you didn't take a shower, but please use deodorant. And if you don't use deodorant, please shower. If you can't do either, then stay home. I know it's mean, but I hate the smell of body odor. HATE IT!
What are your six?