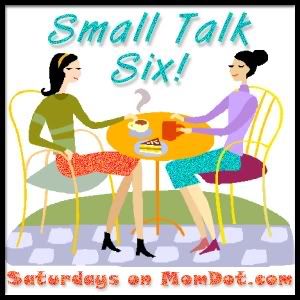 Todays Small Talk 6 is the 6 Worst Lies You've Ever Told. Now, I'm not a liar, never really have been. I'm not good at it, every time I lie I get caught. It's always been like that, even when I was in high school. I was never able to get away with anything. As a result, I spent a lot of time grounded!
1...No, I wasn't drinking. It probably sounded more like "No..I shwear I washn't drunking at all.." Hiccup Hiccup
2...Yes, I really do like that haircut. Haven't we all said that a time or two?
3...No, I'm not pregnant. I told everyone that when we were trying to keep this pregnancy a secret. Too bad everyone already knew! HA! I guess I really AM a bad liar!
4...Those aren't my cigarettes!!! They were totally mine, and my aunt knew it. I still don't know why I lied. It would have been better to tell the truth.
5...Yup! That's my real phone number! I swear..it really is! Heehee...works every time!
6...I have "food poisoning"..can't make it to work today. That one used to work. I'm pretty sure my boss saw right through it, but at least I got a day off work! HA!