We had a wonderful Easter. We were able to see lots and lots of people. On Saturday we saw Donn, Rick and their whole family, David, Iris and the boys, Mike, Diana and their boys, and Uncle Don. It was a great visit. Adelae loves playing with Joshua and Jonah. Joshua was so sweet to her. He kept giving her hugs and holding her hand and walking with her through the house. Too cute!
Easter Sunday we went to Dad and Carol's and were able to see just about everyone, including Carol's family. Ben got to ride the 4 wheeler. He had so much fun taking Alli, Morgan and Corbin for rides. We were exhausted when we got home. I think Adelae is just starting to come down from all the excitement.
Dad and Carol got Adelae a Longaberger basket for Easter last year. We plan to take pictures every year with her basket. It's amazing to see how much she's grown in just one year. I see her everyday, so for me it's a much more gradual process. However, when I looked at her picture from last year and the picture from this year, I was amazed! It really shows how much she's grown and changed in this last year.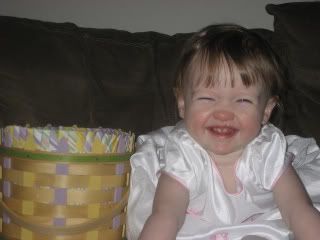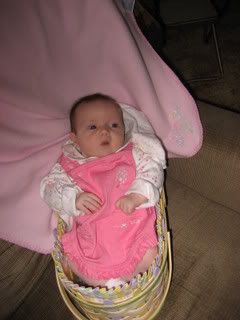 You can see all of our Easter pictures at www.ftwaynecollines.shutterfly.com