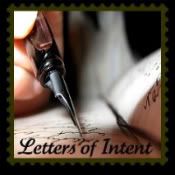 Dear Contacts:
I don't understand you. I take care of you. I change you every 30 days(give or take a few), I don't sleep in you, I make sure to clean you each and every night. Why oh why do you insist on sticking to my eyeball like you were put in with super glue? Why? Why do you insist on making most of my days miserable. Why? I don't understand. According to my eye doctor, you're the best on the market. I'm contemplating just going back to wearing my glasses. And I really really hate my glasses. I'll give you one more opportunity before I chuck you forever. Please oh please oh please don't make me go back to wearing my glasses. Please?
Sincerely,
One who does not look good in glasses.
Dear adorable 3 year old daughter,
I love you very much. You'll always be my first born and my baby. Always. Now, let's talk about the hunger strike you're apparently on. I just want you to eat. You don't have to eat very much, just enough to survive. I would really appreciate it if you would do it with no tears and screaming. The crying and screaming are getting REALLY old. Really. I don't have much sanity left and you're stealing it meal by meal. I'm pretty sure if this continues, Mommy's going to wind up in the loony bin saying "Just eat your food. Please. Just eat your darn food! If you don't eat, you're going to bed." Over and over and over.
Sincerely,
Mommy's about to snap
Wait...what's that? Hmm...apparently I already say that over and over again. Well, now I'm wondering, do you think I could nap in the loony bin? And I bet they don't make you cook or clean either right? And my family could probably come visit once in awhile right? So, in reality it's like a vacation. Maybe I could even afford one of those fancy spa places. Ya know..where the celebs go to "rest." Actually, it's sounding better and better............